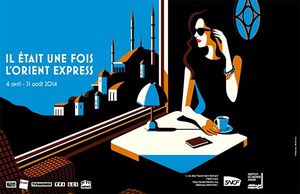 There was upon a time the Orient Express
C'era una volta l'Orient Express
Il était une fois l'Orient Express
http://www.imarabe.org/exposition-ima-11859
The Orient Express is back to Paris, and we can visit it at Arab World Institute. Walk inside his wagons and discover his incredible story ~~~ L'Orient Express é tornato a Parigi ed è possibile visitarlo all'Istituto del Mondo Arabo. Attraversate i suoi vagoni e scoprite la sua incredibile storia.~~~ L'Orient Express est de retour à Paris et on peut le visiter à l'Institut du Monde Arabe. Traversez ses wagons et découvrez son incroyable histoire.
In the firs part of the visit you will discover the life on the famous train and you will see the crime scene of the Agatha Christie roman "Murder on the Orient Express" ~~~ Nella prima parte della visita si monta in carrozza alla scoperta della vita sul celebre treno, e si finisce sulla scena del crimine del romanzo di Agatha Christie "Assassinio sull' Orient Express" ~~~ Dans la première partie de la visite on part à la découverte de la vie dans le train et on se retrouve sur la scène du crime du roman d'Agatha Christie " Le Crime de l'Orient-Express "
The second part of the visit take part in the Arab World Institute and you will learn a lot about the story of the train and the people who traveled on it. ~~~ La seconda parte della visita si svolge nell'Istituto del Mondo Arabo dove si scoprono tante cose sul treno e sui personaggi famosi che vi hanno viaggiato. ~~~ La deuxième partie de la visite se déroule dans l'Institut du Monde Arabe où on découvre un tas de choses sur le train et sur les célébrités qui y ont voyagé.